Thirteen inspirational academics have been honoured for the outstanding quality and approach to their teaching.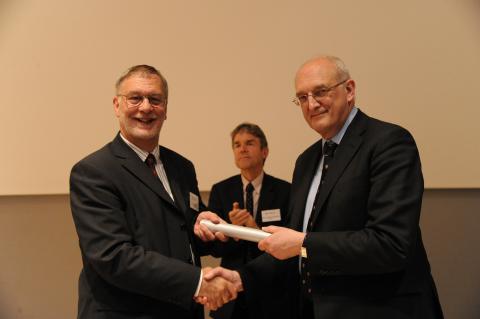 The 20th annual Pilkington Prizes, which honour excellence in teaching across the collegiate University, were held at Murray Edwards College last night.
The prizes are awarded annually to academic staff, with candidates nominated by Schools within the University.
The Pilkington Prizes were initiated by Sir Alastair Pilkington, the first Chairman of the Cambridge Foundation, who believed passionately that the quality of teaching was crucial to Cambridge's success.
This year's recipients received their awards at a ceremony attended by Vice-Chancellor Professor Sir Leszek Borysiewicz and Lord Watson of Richmond CBE, the University's High Steward.
One of the prizes was won by Dr Dick Fenner, the Course Director of the MPhil in Engineering for Susutainable Development.
Dr Dick Fenner, Senior Lecturer, Department of Engineering: "Dick Fenner has been the Course Director of the highly successful MPhil in Engineering for Sustainable Development since its establishment in 2002. With students from over 60 countries ranging in age from 20-65, some with considerable professional experience and some with very little, he has had to devise many innovative approaches to teaching. He has constantly evolved the course to reflect the changing needs of the students, and his transformative educational experience has included role plays, games, debates, site visits and mock inquiries, and field trips."
For full details of other prizewinners see: http://www.cam.ac.uk/for-staff/news/2013-pilkington-prizes